Marinated Grilled Belgian Blue Beef Rib Steak with Provence Herbs
To serve four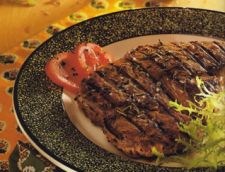 2 – 400g Belgian Blue Beef rib steaks
1 teaspoon of white pepper corns
4 tablespoons of Provence Herbs
4 tablespoons of olive oil
1 tablespoon of lemon juice
sea salt from the grinder
Preparation
Crush the pepper corns. Mix, in a deep bowl, half of the Provence herbs, the olive oil, lemon juice and crushed pepper corns.
Place the rib steaks in the mixture, cover with a plastic wrapping and leave rest in the refrigerator for at least 1 hour.
On a charcoal grill, spread the remaining Provence herbs.
Grill the rib steaks from 6 to 8 minutes on each side. Salt the meat at the end of the cooking process.
For presentation you can cut the rib steak in large oblique slices or leave whole. Serve immediately.
Garnish with tomatoes, lettuce and serve with seasonal salads, potatoes or rice.
*From "Livre de recettes Medaille d'Or, Viande Boeuf Belge aux Possibilités Illimitées", used with permission
Belgian Blue Beef Brochettes Antilles Style
To serve one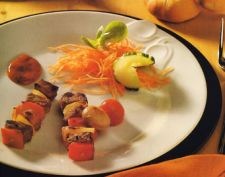 200 g Belgian Blue Beef cut in 1.5 cm cubes
4 mushroom caps
2 tablespoons of olive oil
1 tablespoon of lemon juice
1/3 teaspoon of fennel seeds
1 hot pepper
1 onion
1/2 red pepper
4 slices of sliced smoked lard
4 cherry tomatoes
Preparation
Mix oil, lemon juice, fennel seeds and hot pepper. Marinate the meat and mushrooms in the mixture for at least 4 hours in the refrigerator.
Cut the peeled onion, red pepper and lard in 1.5 cm cubes.
Use wooden skewers and insert meat, alternate with onion, red pepper and lard. Place the cherry tomatoes and mushroom caps at the centre of the brochette.
Cook on the BBQ or in the oven until desired doneness of meat.
Serve with cucumber, salad, stuffed mushrooms and radishes or other fresh fair. You can also accompany with fondue-style dipping sauces.
Makes 2 brochettes.
From the Belgian Blue Recipe Book – "Livre de recettes Medaille d'Or, Viande Boeuf Belge aux Possibilités Illimitées", used with permission

Fricadelles of Belgian Blue Beef in puff pastry served with venison sauce
To serve four
* This product is also available ready-made! If you live in the Ottawa-Hull, Alfred-Plantagenet, Lachute, Montebello or Montreal area, drop by and pick yours up today – each fricadelle is accompanied by a serving of sauce.
Preparation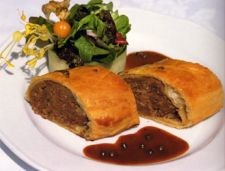 A sort of elongated meatball, the Fricadelle is a Belgian/German specialty made with ground meat and a variety of complementary ingredients and seasonings. It may be deep-fried or slow-cooked in a stew. Beer is sometimes featured in the recipe.
Our recipe borrows its inspiration from the classic "Beef Wellington". The ground, seasoned meat is wrapped in puff pastry, baked in the oven and served hot accompanied by a beer-based venison sauce.
The Fricadelles
500 g or 1 lb-2 oz Ground Belgian Blue Beef
400 g or 15 oz Puff pastry
100 g Dry bread crumbs
1 Thinly sliced onion
50 ml or 2 oz of 35% cream
1 Whole egg
1 tbsp Chopped parsley
Nutmeg, salt, pepper to taste
1 egg yolk
Sauté the sliced onion in butter until softened. Chill. Roll out the puff pastry to a thickness of 3 mm (1/8″). Cut 4 equal size rectangles.
Incorporate all ingredients (except the egg yolk) into the ground beef and mix thoroughly. Divide this mixture into 4 equal amounts and form 4 elongated meatballs (cylindrical) to a length matching the width of the puff pastry rectangles. Place each roll at the end of the rectangle and proceed to roll up the pastry around the "fricadelle". Use a little egg wash to secure the pastry. Place each roll seam down on a baking sheet. Brush with egg wash and place in a hot oven (400 F) for approximately 30 minutes.
Venison Sauce
1/2 li or 18 oz Brown veal (beef) stock
100 ml or 4 oz Beer (light or amber colour)
1 tsp Dijon mustard
4 tbs[ raspberries (unsweetened)
salt, green pepper corns (in brine)
In a saucepan over medium heat, reduce the beer by half, add the veal stock, the mustard and the raspberries. Again reduce by half. Add the green pepper corns and salt to taste. Serve immediately.
Recipe by Luc Gielen, Owner of the Restaurant Le Sans Pareil.
Pannequets of Belgian Blue Beef marinated in fresh goat cheese and dried tomatoes
To serve four
A Pannequet (from the same root word as pancake) is like a small stuffed crêpe. The Pannequets in this recipe can be served as an hors d 'oeuvre or as an appetizer. To accentuate the unique taste of Belgian Blue Beef, the "crêpe" is replaced by a thinly sliced sheet of beef, "carpaccio" style.
The Pannequets
400 g or 14 oz Filet or inside round of Belgian Blue Beef
1 tbsp Capers
1 tbsp Dijon mustard
2 tbsp Chopped parsley
1 tbsp Mayonnaise
1/2 Red bell pepper, finely diced
1 chopped green onion
Salt, fresh ground pepper, tabasco sauce, Worcestershire sauce
The Marinade
50 g or 2 oz Fresh Goat cheese
5 tbsp Olive oil
2 tbsp Balsamic vinegar
4-5 Basil leaves, finely chopped
4 Dried tomato slices, finely diced
Salt, pepper
Method:
Wrap the cut of meat in plastic wrap and place in the freezer for approximately 2 hours (this will facilitate thin slicing).
Prepare the marinade by mixing all ingredients and leave to infuse. When ready, cut 8 thin slices of Belgian Blue Beef carpaccio style (wafer thickness), delicately place them on a sheet of waxed paper and keep in the fridge.
Grind or chop the remaining meat and mix in all other ingredients. Season to taste.
Divide this mixture among the thin slices of beef. Roll the slices around the mixture to form small cylinders. Place the completed Pannequets in the marinade and let sit for an hour before serving. Turn frequently while marinating.
Recipe by Luc Gielen, Owner of the Restaurant Le Sans Pareil.
Belgian Blue Beef Paupiette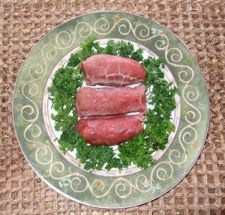 It is 45 gr of creamy Belgian Blue Beef stuffing seasoned just right, then tightly wrapped in a slice of Chinese Fondue with plenty of options to serve:
– Pan fry like a sausage and serve
– Cook until golden in butter, then simmer in warm broth or wine for 45 minutes
– Coat with olive oil and cook at medium heat an cook on the BBQ
Sauce : Deglaze the bottom of the frying pan with a cup of broth and reduce by half, season to taste and serve or use your favorite sauce
The Belgian Blue Rosette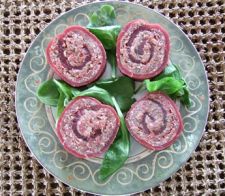 It is a slice of thin flank steak stuffed with a mixture of minced meat, onions, eggs, cream, herbs and spices then rolled and cut in a one inch rosette.
How to cook.
Pan fry like a hamburger and serve
Fry in some butter or oil till golden and cook in oven for 20 min. Add sauce of your choice
BBQ: Brush with oil and grill at medium heat
Tartar of Belgian Blue Beef
(4 Servings)
500 g ground Belgian Blue Extra Lean Beef
Mayonnaise, homemade if possible
2 tablespoons of capers
Lots of fresh, chopped parsley
2 tablespoons of finely chopped fresh onion
Couple of drops of Worcestershire sauce
Tabasco
Unsweetened pickled onion and pickles
Salt and freshly ground pepper
Preparation
Put the ground meat in a dish. Add a couple of tablespoons of mayonnaise and mix well. Add Worcestershire sauce, salt, pepper, capers, parsley, fresh chopped onion. Mix again. Taste and modify seasoning, if required.
Presentation
Make 4 portions and place on 4 plates. Decorate with pickles and onions Serve with French fries and salad
Toast Cannibal: Put Tartar on dark, toasted bread. Decorate with pickles and pickled onions
Christmas Log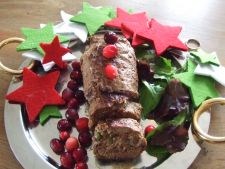 A slice of thin flank steak rolled and stuffed with a mixture of minced meat, onions, eggs, cream, herbs, mustard and spices.
It cooks like a small roast. Seal in frying pan while still slightly frozen. Continue cooking in pan at reduced heat or in oven at 350 F for about 30 to 45 min depending on size of the log. Baste regularly. Deglaze with wine or broth and make sauce of your choice. Do not overcook to avoid loss of moisture and taste.
Veal or Beef Sausages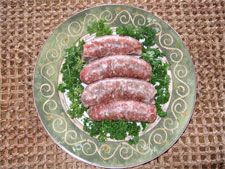 75 % veal or beef
25 % porc
No preservatives or color added
Pepper, salt
A nationality:
The Belgian: Nutmeg
The French: garlic and parsley
The Italian: Italian and Provencal herbs
Cretons of Belgian Blue Beef
Ingredients:
500 gr ground lean Belgian Blue Beef
2 garlic cloves, chopped
1/2 onion, finely chopped
1/2 tsp dried thyme
1/2 tsp ground cloves
Salt and pepper
Water
1 tbsp Dijon mustard
1 tbsp fresh Italian parsley, chopped
1 tbsp tomato paste
Preparation
In cooking pan, mix the ground BBB beef, garlic, thyme, cloves, salt and pepper. Cover with water
Cook over low heat for 45 to 60 min until all water is evaporated
Add mustard, parsley and tomato paste. Mix well
Put in small containers and cool
May also be frozen
Cooking Tips
Barbecuing: The secret to successfully barbecuing meat is maintaining the natural juices of the meat while cooking. This is achieved by preheating the barbecue on high before placing the meat on the grill. This is even more important for Belgian Blue meat as there is virtually no excess fat to be drained. To prevent loss of natural juices, coat the Belgian Blue steak with a thin layer of olive oil (and spices, if desired) before barbecuing, then sear each side on high before reducing heat. For hamburgers, mix one tablespoon of olive oil into one pound of hamburger meat.
Roasting: Preheat oven to 450 F (240 C). As pure Belgian Blue Beef has very little, if any fat, it must first be seared before roasting. Then, place a strip of bacon on top (optional) and place uncovered in oven. Reduce heat to 350 F (180 C) after 15 minutes. Allow 3 minutes of cooking for every 3 ounces (100 gr) of meat.
Frying: Meat should always be at room temperature before frying. Cooking time depends on the thickness of the meat and personal preferences as to doneness. A one and half inch thick steak (3 cm) will be medium rare when cooked 4 minutes, 2 minutes on each side. If cooking time is increased by 1 ½ to 2 minutes on both sides, steak will be well done.
Beef Information Centre
Did you know you can cook and freeze ground beef ahead of time? What a time saver!!
For quick cooking beef recipes, nutritional information or cooking tips, visit the Beef Information Centre. Free recipes and publications on all that's beef, including Canada's favourite – ground beef!